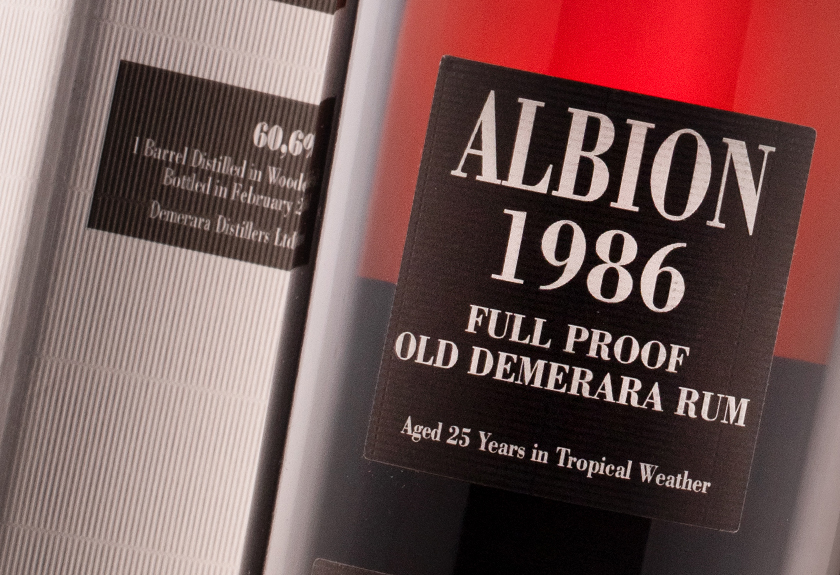 The Demerara Distillers rums bottled by Velier in the iconic black bottle, are now the object of any collector's desire in the world.
Known for their unique flavor and their ever-increasing rarity, these jewels were brought to the forefront by Luca Gargano, patron of Velier, considered the leading world expert, a visionary and brilliant character who has been able to bring such a precious and rich in history distillate, into the Olympus of rum and beyond.
The bottlings of this selection are unique and unrepeatable, not just because they come from old alembics now partially destroyed, but mostly because Gargano was the only one in the world to be able to personally select among the thousands of barrels of the "Warehouse n.1", the warehouse with the most precious ones, this thanks to the fraternal friendship that binds him to Yesu Persaud, legendary president of the DDL and among the most influential men of the country, who agreed to sell him a part of the distillery stock.
Gargano's intuition to individually bottle the different Demerara "marks" coming from different alembics and the choice to keep them "full proof" did the rest.
This is how the "Age of Velier's Demerara" was born. But not without difficulty.
Gargano jumped the gun so much, that perhaps the public was not ready for such kind of products and these meant the bottlings of this series remained unsold for years on store shelves, confining the product to a niche of connoisseurs.
There were many debates in which Gargano supported the importance of tropical aging, that unlike the classic continental aging in Scotland, allowed them to develop their organoleptic qualities to the top and get a 100% original product, even though the cost, was an evaporation three times higher than aging in continent.
Initially it has been a difficult process. However a treasure can never stay hidden too long.
Around 2010 the first tasting reviews by the major connoisseurs in Europe began and in the following years, more enthusiastic reviews were not long in coming. We were in front of a unique and unrepeatable product.
Little by little the shelves of shops began to empty, same as availability at online retailers.
Now these bottles are becoming more and more of a rarity, so it is no surprise that some bottlings of this series are worth fortunes. Selling for thousands of euros at auction, represent the most appealing in the rums world among collectors and investors.
These are the bottles that make up the complete black bottle series.
2005 Bottlings
SKELDON 1973 60,5% SWR 32yo – 544 bottles
SKELDON 1978 60,4% SWR 27yo – 688 bottles
UITVLUGT 1988 52,9% SP-ICBU 17yo – 1091 bottles
DIAMOND 1993 61,4% <>W – 266 bottles
2006 Bottlings
PORT MOURANT 1993 65% PM 13yo – 2994 bottles
BLAIRMONT 1991 56% 15yo – 1913 bottles
UITVLUGT 1985 46% 21yo – 71 bottles
DIAMOND 1988 59% SV 18yo – 51 bottles
2007 Bottlings
ENMORE 1998 64,9% EHP 9yo – 266 bottles
VERSAILLES 1998 64,5% VSG 9yo – 278 bottles
LA BONNE INTENTION 1998 55,6% LBI 9yo – 274 bottles
2008 Bottlings
PORT MOURANT 1972 47,8% PM 36yo - 175 bottles
PORT MOURANT 1974 54,5% PM 34yo - 364 bottles
PORT MOURANT 1975 56,7% PM 33yo – 518 bottles
ALBION 1983 46,4% AN 25yo – 313 bottles
ALBION 1989 62,7% AN 19yo – 108 bottles
ENMORE 1988 51,9% MEA 20yo – 419 bottles
ENMORE 1990 61% MEA 18yo – 728 bottles
UITVLUGT 1990 66% MPM 17yo – 881 bottles
2011 Bottlings
DIAMOND 1996 64,6% SVW 15yo – 1265 bottles
ENMORE 1995 61,2% ELCR 16yo – 2415 bottles
BLAIRMONT 1982 60,4% 29yo - 250 bottles
ALBION 1986 60,6% AW 25yo – 214 bottles
ALBION 1994 60,4% AN 17yo – 1014 bottles
2012 Bottlings
PORT MOURANT 1997 65,7% UPM 15yo – 1094 bottles
DIAMOND 1996 63,4% SSN 16yo – 828 bottles
UF30E 60,7% UF30E 27yo – 814 bottles
DIAMOND 1981 60,1% S 31yo – 810 bottles
2014 Bottlings
DIAMOND and PORT MOURANT 1995 62,1% PM 19yo – 564 bottles
DIAMOND 1999 64,7% SVW 15yo – 1411 bottles
DIAMOND 1999 53,1% 15yo – 1137 bottles
DIAMOND and VERSAILLES 1996 57,9% SVSG 18yo – 570 bottles
UITVLUGT 1997 59,7% ULR 17yo – 1404 bottles
DIAMOND and PORT MOURANT 1999 52,3% PM 15yo – 1140 bottles
UITVLUGT 1996 57,2% MODIFIED GS 18yo – 948 bottles
ENMORE and PORT MOURANT 1998 62,2% EHPM 16yo – 848 bottles
Everyone wants an old Velier's Demerara. Whether for collection or investment, they represent the best rum world has to offer. And they will be more and more.
Mariano Reggiani